I Can See The Coastline!
This is the mantra I keep repeating to myself at the moment.
And this is how I see my recovery at the moment too.
~
I've been dropped (often from a great height to add tension and excitement) Into the deep blue ocean.
Normally I end up in the Sulu Sea, (which is to the northeast of Borneo) because this was a period in my life when for three whole weeks I was at one of my happiest and healthiest whilst surrounded by beauty & nature (that and Brighton can be a bit cold and bleak at times!)
So there I am, in this huge and never-ending ocean.
It's deep, dark, cold, lonely and often very scary.
I can't go back because behind lies never ending emptiness & I know this will kill me.
I can't go right, as I know only danger lurks there and I can't go left as it just leads to nowhere.
The only way is forward which is against the current and utterly exhausting!
But with sheer determination, I find the strength in me to keep going. Through all the thunderstorms, past all the barriers and blockages that get in my way, the pain and the danger, I keep swimming.
I have to.
As I do, I find myself getting stronger. I start to feel more power and energy in my body, more oxygen in my lungs and my mind is clearer to help me think faster.
Then suddenly I see it, the coastline in the distance. Not close enough to reach yet but my toes are starting to skim the surface of the seabed.
The waters are becoming bluer and clearer, the light bouncing off the waves and sparkling in the glorious sunshine. I feel it the breeze on my skin and I feel alive and at peace.
Although it's a little hazy, I can make out what awaits me when I finally reach my destination.
I see my family and friends there, waving and calling me back.
I see my little gal Inca (my dog) bouncing around with her tail wagging.
I see all my hopes and dreams in many different forms, jumping around and cheering me on.
I see all my future goals and plans, panning out perfectly and sunning themselves on the golden sands.
I also see many different faces of people I've not met yet, telling me how much they need me to keep going and reach them, that they need me to be a part of their life.
And then I see myself.
And I look beautiful.
I am radiant, healthy and so, so happy....
~
Just wanted to share this with you this week and tell you to keep swimming too, no matter how hard it is at times and how much you just want to give up…
My coastline is getting closer and closer, as is yours.
With Much Love, Smiles & Support,
Hanna xx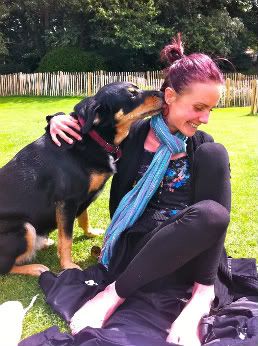 I also wanted to share this song with you. I think it's beautiful & also find it very fitting right now!
Enjoy! :) x